| | |
| --- | --- |
| Department of pulmonology and surgical methods of treatment of respiratory diseases | | Print | |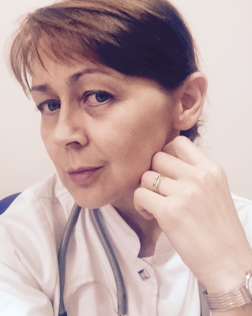 Davidovskaya Elena Ignatyevna, Candidate of Medical Sciences, Head of the Department of Pulmonology and Surgical Methods of Treatment of Respiratory Diseases.
SCIENTIFIC AND CLINICAL DIRECTIONS OF THE DEPARTMENT
1. Pathophysiological aspects, diagnosis and therapy of chronic nonspecific lung diseases.
2. Diagnosis and pharmacotherapy of respiratory infections.
3. Functional diagnostics and rehabilitation in pulmonology.
4. Interventional pulmonology.
5. Surgical methods of treatment in pulmonology.
6. Intensive pulmonology.
7. Pathophysiological aspects of optimization and individualization of treatment of respiratory diseases, taking into account the comorbidity and clinical features of the course of diseases.
8. Identification of risk factors, prognosis and prevention of respiratory diseases.